Paradise Island, Bahamas
Once called Hog Island and the private possession of A&P magnate Huntington Hartford, Paradise Island was a haven for the world's ultra-wealthy before large hotels like Atlantis were admitted.
You can still find examples of its old-style grandeur at a resort like the Ocean Club with its Versailles Gardens and 14th Century French Cloister.
The Cloister, which stands at the top of a long row of terraced gardens and looks like something left over from a Middle Ages movie, was in fact designed and built by 14th century Augustinian monks and brought to the island piece by piece decades ago. Overall, a remarkable piece of whimsy.
Today, the Ocean Club is affiliated with the $800 million fantasy land known as Atlantis, the world's largest island resort with what would be the Caribbean's largest casino if the Bahamas were in the Caribbean.
Atlantis has a new neighbor, the all-inclusive Riu Paradise Island hotel located right next door.
The Atlantis mega-resort does an impressive job of recreating the legend of the lost continent of Atlantis which, according to Plato, was populated with an advanced race and located somewhere in the Atlantic Ocean.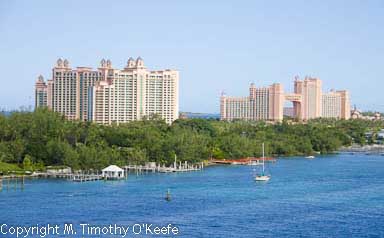 Supposedly larger than Asia Minor, Atlantis conquered most of the Mediterranean some 12,000 years ago, then disappeared beneath the sea about 1,500 B.C.
Until it rose from the sea, on Paradise Island, in the form of the Royal Towers, whose gushing outdoor fountains and waterfalls depict Atlantis freshly re-emerged. This is a sister of The Lost City, an equally successful fantasy resort at Sun City in South Africa.
The place is huge, which is why guests are given a map of the property that consists of new 1,202-room Royal Towers that's combined with the existing 1,124-room Coral and Beach Towers.
Together, they offer 11 themed restaurants; almost a dozen bars, lounges and entertainment areas. Try these Atlantis Restaurant Recipes the next time you are grilling.
The Atlantis's main attraction, however, is its8.1 million gallons of marine habitat with fish, sharks, rays and a myriad sea creatures.
The 50,000 square-foot casino linking the Coral and Royal Towers would be the Caribbean's largest, but the Bahamas are in the Atlantic, not the Caribbean.
Atlantis can best be described as a 14-acre water-oriented theme park set on an oceanfront beach. However, Atlantis differs from other theme parks in one crucial way: Almost all activities are free. Your room is your passbook to everything. For a family, the savings on typical theme park admission fees may come close to matching room costs.
If you plan to dine exclusively at Atlantis or its affiliated property, the Ocean Club, explore the meal plan options. Ala carte can become expensive.
Go to Nassau Homepage
Go to Junkanoo Parade photo gallery featuring the Bahamas' biggest celebration of the year, held on Nassau's Bay Street.

To Best Time to Visit

To Nassau Things To Do