Xunantunich Excursion
Part 2
Climbing Belize's second largest pyramid
Xunantunich May Ruins
Belize City Day Excursion
On the terrace containing the Maya friezes, I stand near a mask with big ears and ear ornaments is supposed to represent the sun god. Signs for the moon, the planet Venus and different Mayan days are also displayed. Yet to be explained is the unknown, unidentified man who was beheaded for some reason.
Considering all the human sacrifices said to occur here, I like to think it depicts how paybacks can be a bitch, that this frieze depicts the ruler the Maya residents decided should be handed his own head.

When Xunantunich was partially destroyed by an earthquake, the Maya took it as a sign that the gods were displeased with them despite all the human sacrifices. They lost faith in their leaders, revolted and apparently beheaded at least one ruler before abandoning the location.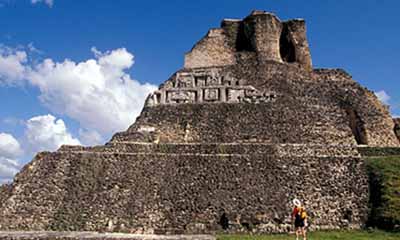 Xunantunich El Castillo

As I stand on the terrace containing the various friezes, I see it is still a long way to the top of El Castillo. The ascent requires climbing up small steps and navigating narrow walkways, even passing the room where the rulers once slept every night. From my new vantage point atop the pyramid, I can finally appreciate the remarkable compactness of Xunantunich.

The six major plazas and 25 temples and palaces of the main square are packed in an area less than 325 square yards. Out of sight and hidden by the trees are the residential structures built on the surrounding hillside.

El Castillo was strategically located on a hilltop, which allowed it to tower even higher over the Mopan and Belize River valleys below. It's amazing how far I can see, if not quite far enough to pick out Tikal, the huge Maya complex in Guatemala only 30 miles away.

The Maya rulers certainly knew where to build a room with a view. I'd gladly spend the night up here, too.
Xunantunich was the first major archeological site opened to the public, in 1954, and since has come to symbolize the Maya heritage of Belize .

Most tours from Belize City offer day tours to Xunantunich combined with a stop at the Belize Zoo (on the way). Or rent a car and make the two-hour, 80-mile drive on your own. Signs may be lacking but there aren't that many wrong turns to make.

To reach Xunantunich it's also necessary to cross the Mopan River on a hand-cranked ferry. The ferry can take one vehicle across at a time, and you might want to take your vehicle to avoid the steep climb from the riverbank to the ruins entrance. The ferry operates from 8 a.m. to 5 p.m.

To Xunantunich Excursion Part 1
To Belize City Home

To Caribbean Cruise Tips