The British Virgin Islands
Sailing Capital of the Caribbean

Seen from the air, the BVI's 36 islands look like 2 rows of green stones carefully arranged in a huge pond.
The islands provide excellent sheltered sailing conditions that attract yachtsmen year-round but especially in winter when more than a thousand sailboats are available for charter.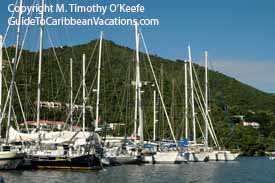 Sailors usually stay inside the 3-mile wide Sir Francis Drake Channel because the sea highway is so well protected by by the rocks, cays and islands that flank the channel.
A sailboat really is nothing more than a waterborne RV. However, you don't have to do any of the cooking, cleaning or really much of anything unless you want to. Hire a crew to do it all. That's camping in style.

You do not need to be a skilled sailor, just a decent boat handler. Some sailors use their boat engines to travel from island to island without ever raising a sail the entire trip.

Tortola offers 3 types of sailing charters are possible: Bareboat, crewed and flotilla sailing.
Bareboat, the most popular, assumes you have some basic skills and will be able to handle a vessel between 28 and 56 feet.
A crewed charter brings a hired captain and a mate who do all the work.
Flotilla sailing assumes some sailing experience as you travel with a small fleet of yachts guided by a lead team. This is a good way to learn new waters.
Whatever the preference, yachts are normally stocked with ice, fuel and water. Many operators also provide snorkeling gear and include items such as a barbecue grill and a small canvas roof called a Bimini top. Sea kayaks and dive equipment are usually available.
Before setting sail, expect a thorough briefing on your yacht, its operation and the equipment aboard.
Plus a detailed chart briefing that locates the best anchorages, restaurants and beaches and any navigational hazards.
There are dozens of sailing charter companies available. The complete list with contact information begins here
To Tortola Bareboat Charters

To Tortola Crewed Charters

To BVI Day Sails
To Tortola Homepage

To BVI Homepage