Norman "Treasure" Island
As the model setting for Treasure Island by Robert Louis Stevenson, Norman Island is one of the most famous landfalls not only in the British Virgin Islands but in all the Caribbean,
Despite the many tales of pirates and treasure caves, the 610-acre island lacks permanent inhabitants though the legendary Caves are one of the BVI's most popular tourist attractions.
Located about 7 miles from Tortola, Norman Island is about 2.5 miles long with a central ridge running its length. The island's highest point, at 427 feet, overlooks a coastline with several bays offshore reefs with popular snorkeling sites.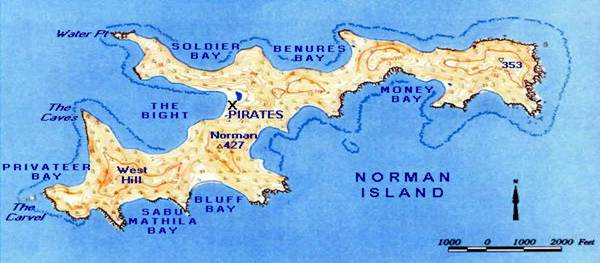 One of the most protected anchorages is The Bight, which can hold up to 100 vessels. Soldier Bay, Benures Bay and Money Bay also offer secluded anchorages with the right conditions.
Treasure Point, at the southern entrance to The Bight, comprises a rocky headland along which the famous caves can be found at the base of the cliffs allowing access to snorkelers.
This is how Robert Louis Stevenson described The Caves in Treasure Island: "And thereupon we are entered the cave. It was a large, airy place, with a little spring and a pool of clear water, overhung with ferns. The floor was sand."
At The Bight is Pirates Bight Family Restaurant Beach Bar and Gift Shop Bar and Restaurant, open for lunch and dinner. The bar features two happy hours daily, 4-6 p.m. and 10 p.m. until midnight.

To BVI Things To Do