Cozumel Carnaval
A lively celebration that's been going on for more than a century

Caraval in Cozumel
Cozumel's Carnaval is a family-friendly celebration featuring parades, dances and and the varied cultures of the locals, known as?Cozumeleños?. Carnaval will take place Feb. 12 to Feb. 16.
During the 5-day event, there is an energy that flows throughout the island and colors the streets and the homes surrounding its main square. Everyone from children to grandparents fill the streets, blending modern-day themes and music with traditional and folkloric pasts.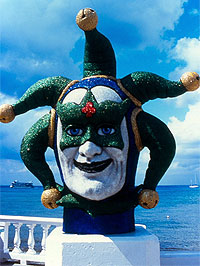 Locals and visitors of every age come together to enjoy the festivities that includes floats and colorful parades, nightly street fairs with traditional foods and concerts, and daily musical performances and dancing through the streets of downtown San Miguel.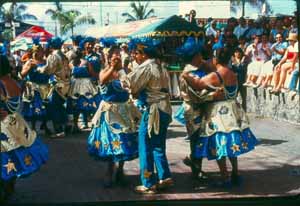 The highlight of the week is the Comparsas Ball, featuring the crowning of the emperor and empress as well as the king and queen of Carnaval, and an intense group dance competition.

?Carnaval is one of Cozumel 's grandest celebrations. Families and businesses prepare many months in advance for the parades and dance competitions,? said Fernando Ferráez, a multi-decade Carnaval planner and historian, as well as the official voice of Carnaval.

?It's a wonderful time for visitors to come to Cozumel . They will not only have the opportunity to experience the color, culture and charm of Carnaval but of the island itself.?

A variety of costumed characters, such as Harlequins, ?Negritos,? ?Mestizos,? rumba dancers, Spaniards, gypsy women, fairies, princesses, bullfighters, and kings and queens, fill the streets of San Miguel.
These parades continue to grow each year with the addition of more floats and participants in their native costumes and masks. More information

To Cozumel Homepage