Caribbean Ports of Call
Where Cruise Ships Anchor or Dock
Naturally, it's up to out to make the decision of whether to choose a cruise where tendering is necessary. Having to do it once or twice on a long itinerary is a gamble. If it's the norm, choosing a different cruise might be the best course.
Anguilla
Cruise ships dock at nearby St. Maarten. Take ferry from St. Martin which shares the island.
Antigua
Dock unless a small ship that goes to Falmouth Bay
Aruba
Dock until too many cruise ships start showing up on the same day.
Bahamas Nassau,
Dock they make it easy here with he port so close to town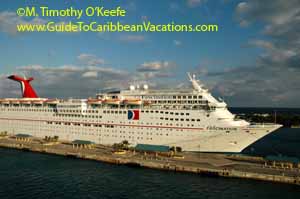 If the ship can reach Nassau, the pier is accessible,
no matter what the weather

Bahamas Freeport/Lucaya
Dock but a long way from anywhere
Barbados
Dock but quite a distance from Bridgetown
Belize
Anchor only because of the shallow shore, with a 20-minute boat ride, minimum
British Virgin Islands/Tortola
Anchor and docking depending on size of ship. Check ahead. Ships at Soper's Hole have to anchor.
British Virgin Islands/Virgin Gorda
Anchor only but close to shore
Curacao
Dock in one of several places
Dominica
Dock usually in the capital city of Roseau. Anchor for Portsmouth and Cabrits National Park.
Dominican Republic/Samana
Anchor with tenders to Cayo Levantado or Samana town.
Dominican Republic/Santo Domingo
Dock on either the Columbus Ligthouse side or near the old Colonial City. There is a 1 hour walk between the two.
Grand Cayman
Anchor only with as many as 9 or more ships on the same day. The harbor is a zoo of tenders, traffic and passengers.
Mexico Cozumel
Dock but the North Dock is a good distance from San Miguel
Mexico Playa del Carmen
Anchor offshore or in Cozumel with passengers brought over by commercial ferry; or the Puerto Calica Cruise Pier 8 miles from Playa del Carmen
Mexico Costa Maya
Dock with a tram ride to land on the long pie

Grand Turk
Dock or drift since anchoring is not allowed to protect the coral. Check to see what priority your ship has.
Grenada
Dock or anchor, check the arrangments for your ship.

Jamaica Montego Bay
Dock at the newly enlarged cruise terminal.
Jamaica Ocho Rios
Dock or anchor, though most dock. Check the arrangments for your ship.
Martinique
Dock either in downtown Fort-de-France or a 5-minute cab ride away.

Nevis
Dock off Charlestown if a small ship; anchor if large.

Puerto Rico
Dock usually in Old San Juan but sometimes inconveniently located across from the Old Town

St. Barts
Anchor with a tender ashore. No room yet (thankfully!) for cruise ships.
St. Kitts
Dock either at the main Port Zante terminal or two miles from downtown.
St. Lucia
Dock or anchor with the larger ships usually docked, the smaller ones anchored well away from shore. Check.
St. Martin/Sint Maarten
Dock on the Dutch side with a short tender or walk to town.On the French side, vessels may dock near Marigot.
Virgin Islands/St. Thomas
Dock or anchor at Castries depending on the port capacity. Your crusie should state which. Anchor for excursion pickups from Soufriere town.
U.S. Virgin Islands/St. John
Anchor only sicne there is no port large enough for a cruise ship to dock
U.S. Virgin Islands/St. Croix
Dock at Frederiksted with a long ride to Christiansted.U.S.