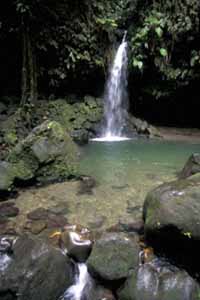 Emerald Pool Falls and Basin
It's possible to swim in Emerald Pool; in fact, on a hot day you'll probably want to. If you do, go stand behind the 20-foot high waterfall; there's plenty of room in the eroded stone behind it. But be careful. The rocks are slippery.
The short trail has 3 lookout points. All illustrate just how heavily forested and natural Dominica remains.
The first lookout is of Morne Trois Pitons. The second looks across Belle Fille Valley and Morne Negres Marrons (2,248 feet). Part of the trail past the second viewpoint is paved for a short distance.
This is part of the old track used as a main road by the Carib Indians from perhaps 800 years ago to as late as the 1960s.
The third outlook shows the Atlantic Coast at Castle Bruce and Anse Quanery.
If you happen to be here near twilight, enjoy the chorus of tree frogs and crickets. Bats, too, will appear at that time, helping to control the island's insect population.
Return to Morne Trois Pitons National Park Homepage