Hard Rock Hotel & Casino Punta Cana
World's First All Inclusive Hard Rock
The Dominican Republic has 35% of Caribbean hotel rooms in the Caribbean. Punta Cana now boasts the world's first all inclusive Hard Rock Hotel & Casino.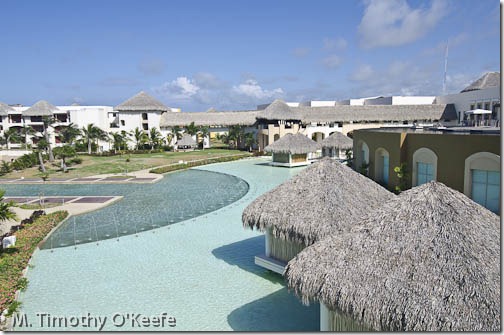 Hard Rock Hotels--already in Bali, Singapore, Las Vegas & Orlando—were bound to appear in the Caribbean; they have in a way. Punta Cana's new Moon Palace Resort Casino and Spa has rebranded itself as the Hard Rock Hotel & Casino and turned into the world's first all-inclusive Hard Rock. Palace resorts are well-known in Mexico but totally unknown in the DR. The Hard Rock name seems to have accomplished its goal.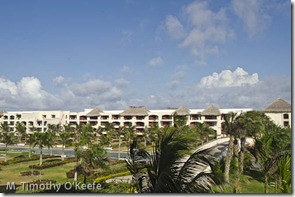 Rooms are spread out in several long wings
How well does American rock n' roll mix with Dominican sun n' sand? Surprisingly well based on my 3 day stay. Yet I feel the resort still is in the process of establishing its identity: is it a family- and couples-friendly all-inclusive or (considering its facilities) is it really more of a convention hotel? The meeting facilities here are enormous, able to accommodate almost 7,000 people, enough for a small political convention.

With two such different audiences, is the Hard Rock Punta Cana the right place for you?Will it deliver what you want and expect on an all-inclusive vacation?
I suspect that depends on the time of year. When I was there in mid-April, it seemed there were mostly conventioneers. Yet this summer the Hard Rock offers a Kids Stay Free promotion through August with the added bonus of $1,500 or more in resort credit through the end of the year (based on length of stay) that can be used for spa treatments, golf, area tours or casino gaming.
Here is what the Hard Rock Resort Punta Cana does offer: all rooms have a private balcony, a double Jacuzzi tub, a dual shower (that could hold as many as 5 people, if not more), robes and slippers, a liquor dispenser and 24-hour room service. A bottle of red wine is available when you check in provided In-room wireless service is free for those with their laptops and—get this—so are unlimited calls to the U.S. and Canada. Personally, I've never experienced that before anywhere in the Caribbean and neither had most of my fellow travelers.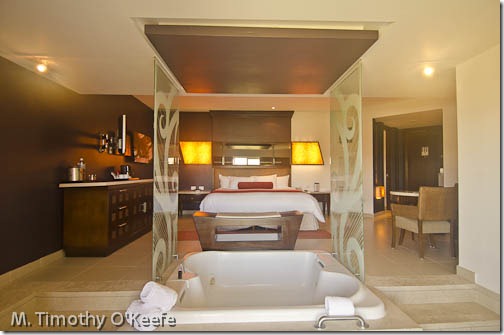 All rooms feature a double Jacuzzi tub usually located off the private balcony
The Hard Rock emphasizes variety. The huge 65,000-foot Rock Spa stresses privacy with single and couples spa suites, fitness center, hydrotherapy center and ice pool. An18-hole Jack Nicklaus-designed 7,253-yard, par 72 championship golf course along with the 19th hole Cana Bay Palace's Casa Club with its snacks and drinks are also included as part of the all-inclusive package. Walk-ins pay $245.
The beach in this area tends to have rough surf but the 8 swimming pools—including one with kid's slide—more than compensate. Also for youngsters are an impressive games arcade, a climbing wall with instructors and mini-golf course.
When it comes to dining, expect about 10 different dining places (the number of options keeps changing) but not all are true restaurants. The choices are eclectic: a specialty steak house as well as Mexican, Italian, Brazilian, Asian and buffet-style restaurants along with ice cream & pizza stops, delis and poolside eateries. And, yes, you can call for room service 24 hours a day although the menu isn't extensive. Overall the food was good, the plate presentation outstanding but portions tending to the smaller side in the ala-carte restaurants. You might want pizza afterwards to fill you up.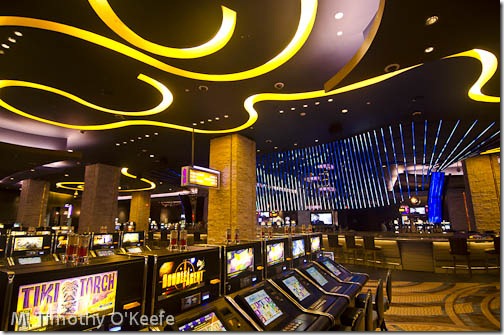 The Hard Rock Punta Cana has the Caribbean's largest casino
The casino (with a deli in one corner) is the Caribbean's largest gaming room with more than 450 slots, 40 table games, poker room and a Sportsbook boasting 86 screens. In addition, you'll find plenty of watering holes and definitely want to peruse the impressive display of rock memorabilia scattered around the main hotel building, but what's really missing here is nightlife.
Surprisingly, you won't find the live nighttime shows that almost most all-inclusive resorts offer. Hard Rock is promising to offer one concert a month but that leaves 29 or 30 other nights to entertain yourself. If you've ever visited the area, you know Punta Cana area is one of those places where the resort needs to provide everything because the options are limited outside the gates.
You may find that crucial, but that aspect didn't bother me. I'd gladly return to the Punta Cana Hard Rock Hotel & Casino anytime.
For Reservations Call: 1-888-762-5002; front desk: 1-809-731-0000 or its website.
For more pictures of the Punta Cana Hard Rock Hotel & Casino, click here