Not long ago this string of tiny Caribbean islands was so unknown that their odd sounding name sometimes was mistaken for a Calypso band or an exotic seafood stew.

Today, the Turks and Caicos (pronounced "kay-kos") are recognized to have some of the Caribbean's best beaches and dive sites, yet this archipelago located just a few miles south of the Bahamas remains comparatively undiscovered.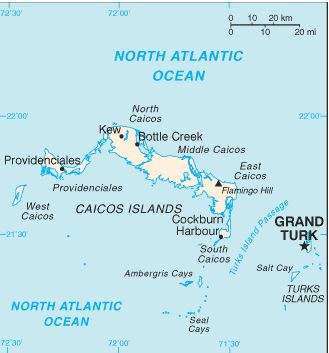 The Turks and Caicos consist of 40 different islands and cays. Grand Turk and Provo are separated by a 22-mile passage. The Caicos are to the west and the Turks to the east.
Development has been confined mostly to the Caicos side and the island of Providenciales, or Provo, which owes its popularity to Grace Bay Beach, a magnificent semi-circle of white sand that borders the richly colored turquoise waters of Grace Bay.
Just beyond Grace Bay the ocean floor plummets to 7,000-feet. Thanks to these drop offs, Provo and nearby islands offer outstanding wall diving.
Where Provo is the main resort center, Grand Turk Island has developed into one of the Caribbean's major cruise destinations.
Essential Information
Turks & Caicos Background
Courtesy of the CIA
Weather Month by Month
Temperatures, Rain, Humidity
Arrival Briefing
What you need to know if you go
Getting Married in the Turks & Caicos
Ask for a record to take back home
Cruise Passengers Can Marry Here
It can all be done while in port

Major Attractions

Ten Things to Know
About the Turks & Caicos

Grand Turk Island
The cruise ship island

Grand Turk Diving
Maybe the best of all?