September Hurricane Strike Paths
Without doubt September is the riskiest month for a Caribbean vacation since hurricane activity literally is all over the map.

No section of the Caribbean is off the beaten path in September with the exception of the Southern Caribbean, also known as the Deep Caribbean, which includes islands in the region of Barbados.
Still, there is no guarantee a storm will bypass that or any other area. Vacation this month with risk--and substantial discounts.

September is a high risk month for the southeastern U.S., the Bahamas and Bermuda.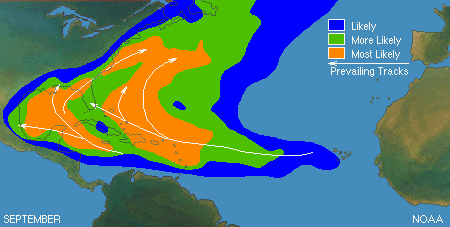 To Hurricanes in the Caribbean
October Hurricane Strike Zones
November Hurricane Strike Zones

August Hurricane Strike Zones
July Hurricane Strike Zones

June Hurricane Strike Zones