Queen's Staircase
Nassau Things To Do
The Queen's Staircase, one of Nassau's oldest attractions, is a steep staircase carved out of limestone. Why was it built?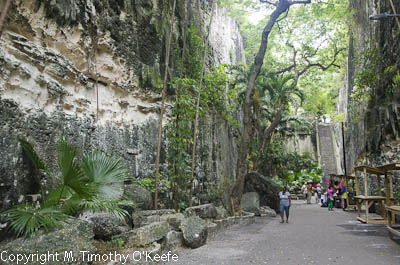 According to one legend, between 1773-1774 slaves carved 65 steps (originally 66) into this 102-foot high solid limestone cliff to honor Queen Victoria's 65-year reign. And also as a tribute to honor her help in the abolition of slavery in the Bahamas. Nice tribute for the Queen, not so much for the slaves. Hopefully the area was as well shaded then as it is today.

This theory not only makes no sense, it does not coincide with historical fact. First, why would slaves take on this back-breaking work to celebrate their freedom? How could they in 1773-1774 if slavery wasn't abolished in the Bahamas until 1834

Oh, and Queen Victoria wasn't born until 1819, decades after the staircase construction. Her reign lasted only 63 years and 7 months. It may be the longest in British history but it's not 66 years.
A more logical story contains a brutal reality. It says the Queen's Staircase was carved by slaves so British troops would have a protected avenue to reach Fort Fincastle at the top of the Queen's Staircase. Fort Fincastle is located at the top of Elizabeth Avenue Hill, off Shirley Street. From Festival Place at Nassau's cruise port, take East Street to Prison Lane. Nassau walking map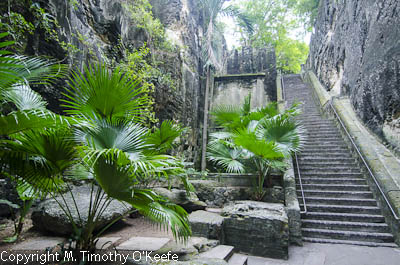 The shaded stone floor of the gully at the bottom of the staircase once was busy with vendors and their stalls selling local crafts. Not so much anymore with fewer people willing to make the climb down to reach them--and then climb back up. Lots of vendors surround Fort Fincastle, near the top entrance to the Queen's Staircase.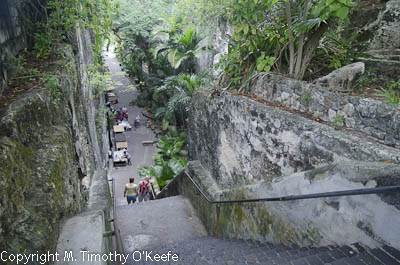 To Nassau Cruise Port Info Home

To Nassau Homepage