The BVI's biggest bash and cultural event, this Carnival goes by 2 names. Some locals refer to it as the "August Festival," while others call it the "Emancipation Festival."
Either name fits since the festival commemorates the proclamation of August 1, 1834, that freed all 5,133 slaves in the British Virgin Islands.
The celebration starts with the construction of the Festival Village in Road Town. Over the next week, evening activities feature everything from children's pageants to calypso, reggae and costume competitions.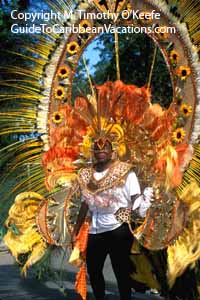 The Emancipation Festival's main parade
On the Friday morning before the first Monday in August food booths are set up near the waterfront. The festival of tastes is worth the trip itself.
The cooks, among the island's best, serve traditional dishes like goat water (goat soup), goat head soup, corned pork, dove pork stewed pork with brown sauce), crab and rice, pigtail or stewed mutton. The main courses are usually accompanied by ground root vegetables (called "provisions"), salad or peas and rice.
Sunday's events start with a pre-Emancipation Walk, or gospel tramp, that ends at the Sunday Morning Well. The governor or a minister reads the Emancipation Proclamation at the Old Well, where it was originally proclaimed in 1834. A new Miss BVI is crowned on Sunday night.
Festival Monday starts bright and early at 4 a.m. with the Rise and Shine Tramp. Bands on huge sound trucks cruise the waterfront until 8 a.m., accompanied by crowds of dancers.
To Emancipation Festival Page 2
Go to Tortola Homepage
Go to British Virgin Islands Homepage