Cayo Levantado
Samana Beaches

Cayo Levantado is a small island (only about 1 square km) located a few miles offshore from the town of Samana.

If you're not part of a cruise excursion, take an early ferry from Samana City because the island can get busy with scores of people who take a 2-hour bus excursion from Cabarete for an outdoor BBQ on Cayo Levantado. The ferry departs from the Samana marina and takes about 20 minutes to reach the island.
Also known as Bacardi Island for the
1970s rum campaign shot on the island's spectacular beaches, Cayo Levantado has become an increasingly popular cruise ship stop for a beach break and a jumping off point for humpback whale watching tours from Jan. 15 to the end of March.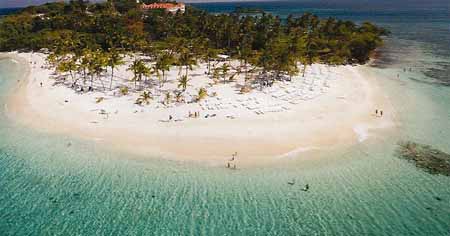 Only a single hotel occupies the island, the Gran Bahia Principe Cayo Levantado Hotel all-inclusive that also features a spa and several restaurants.
The day trippers are usually located far enough away from the hotel not to be a bother to guests.
However, there are many good, small strips of sand you can clearly claim for your own. It takes almost no time to go exploring to find them.
To Samana Things To Do

To Port of Samana Info

To Samana Hotels

To Dominican Republic Beaches Homepage