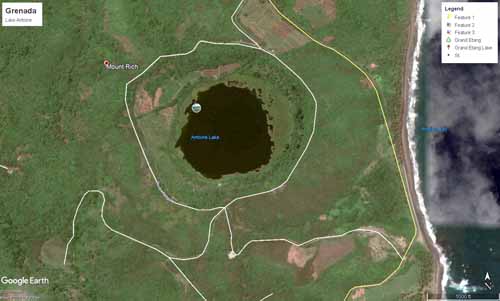 The Lake Antoine crater lake is said to take its name from Captain Antoine, the Carib Chief who lived in this area around 1650. This landmark is located on Grenada's eastern side about 6 miles north of the town of Grenville. Go north on the road to Tivoli. Turn east to La Poterie, then north across River Antoine. A narrow road will take you to Lake Antoine, a crater lake formed by the collapsed cone of a volcano.
From the top of a hill you'll have a fine overview of this perfectly shaped crater. Assuming the access path is in decent shape, take the track down and walk the perimeter of the shallow crater lake, which covers 16 acres.
The water level in Lake Antoine usually is no more than 20 feet above sea level. Although this is in a relatively dry, hot region of the island, it's a good spot for birders. Snail kites, fulvous whistling-ducks, limpkins and grey kingbirds have been seen here.