Somers Statue
St. George Town Bermuda

Sir George Somers Statue
Ordnance Island, St. George Town

The statue of Admiral Sir George Somers by sculptor Desmond Fountain was unveiled in 1984 by Her Royal Highness Princess Margaret to celebrate the 375th anniversary of the settlement of Bermuda.
Admiral Somers is credited with founding Bermuda, officially also known as Somers Isles.
The statue of Somers shows a man who seems unusually happy, possessed or deranged. Somers had reason to feel all three emotions when he landed in Bermuda.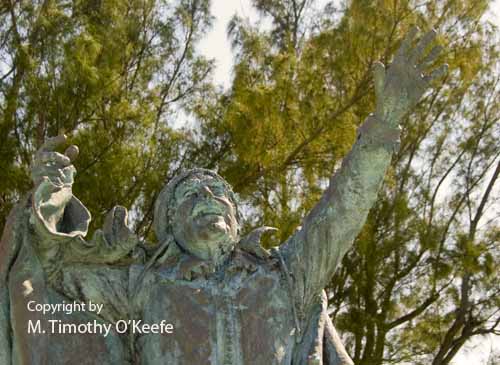 Is Sir George Somers happy, or what?

Here is the story behind the statue. Admiral Sir George Somers (1554-1610) was a naval hero, awarded a knighthood and a member of parliament. In 1609 Somers was made Admiral of the Virginia Company's Third Supply Relief Fleet destined to Jamestown, VA, founded two years earlier in 1607. This was a high honor since Somers was an important part of the largest, most expensive and most ambitious colonial expedition ever undertaken in modern history.
His 7-ship fleet (also with two smaller vessels in tow) left Plymouth, England, on June 2, transporting 500-to-600 people. Six weeks later, on July 25, Somers' fleet ran into what was probably a hurricane. Somers ship Sea Venture developed a serious problem during the storm: It began seriously leaking because the timbers of the newly built ship were not properly set. The caulking binding the ship's hull together began falling out and Sea Venture rapidly took on water.

After 3 days of severe weather, Somers' Sea Venture had 9 feet of water in its hold and everyone was near the breaking point. When Somers sighted land, he steered his vessel onto shore so it would not sink. All 150 passengers--and 1 dog--made it ashore safely.

The statue probably reflects the relief of everyone as they staggered ashore on an island chain that had never been inhabited before.

To Somers Garden St. George Town

To St. George Town Attractions

To Bermuda Attractions and Sightseeing