Ordnance Island
St. George Bermuda

Ordnance Island
St. George Bermuda
Ordnance Island, one of 2 cruise ship berths in St. George's, is a man-made landfall of 1.75 acres.
Ordnance Island incorporates several other St. George's islands, Ducking Stool, Frazer's and Gallows islands.

Gallows Island was appropriately named since that was there those convicted of capital crimes or witchcraft were hanged. It is easy to guess what took place on Ducking Stool Island.

During World War II Ordnance Island was a U.S. Navy anti-submarine base. The U.S. Navy replaced the wooden bridge between Ordnance Island and King's Square with the roadway that thousands of cruise passengers use to walk into St. George Town, only a football field away.
Several of St. George Town's most prominent attractions are located on Ordnance Island. They include Deliverance II, a statue of Sir George Somers who arrived in Bermuda in 1609 and a small public park.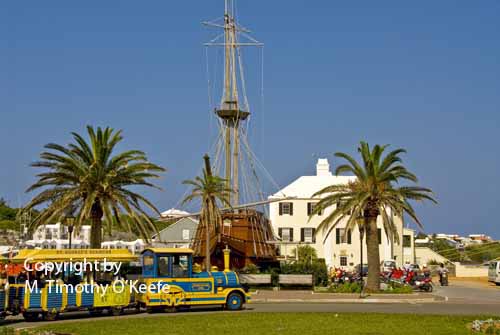 As a cruise terminal, Ordnance Island can be a busy place.
To St. George's Attractions

To Bermuda Attractions and Sightseeing