Samana Port Cruise Facilities

Samana Area Attractions
The Samana Peninsula is one of the least developed parts of the Dominican Republic and has terrific eco travel opportunities. Some of the beaches here are superb. Playa Rincon, for instance, was rated one of the world's 10 best by Conde Nast Traveler. Samana City's main attraction is a unique one: the chance to get up close to humpback whales--better than you ever will in Alaska—but in warm weather during winter months. Horseback riding, ATV rides, offshore fishing and waterfall treks are just a few of the other varied shore excursions.
Docking Facilities
The cruise ship anchors in the Bay of Samana between one and two miles from Samana City. Ship tenders shuttle passengers back and forth to the tender pier, a trip of about 10 minutes. Restroom facilities are available at the tender pier.
Local Transportation
The town of Samana is small and can easily be explored on foot. However, mini-van taxis are available near the tender pier, their rates posted in U. S. dollars. Rates are based on eight passengers and include a 2 hour waiting time at your destination. Additional time is billed at $20 per hour. Taxi drivers sometimes want to fill their cab with eight passengers before departing, which could cause delay. Rental cars also are available. (See Samana map)
Tourism Information
The Ministry of Tourism has representatives in the taxi dispatch and information booth outside the tender pier.
Money Matters
Local currency is the Dominican peso. Its symbol is RD$ to distinguish it from the U.S. dollar. Each peso is divided into 100 centavos ("cents"). Some small stores may provide change in pesos. Credit cards are not widely accepted. ATMs and banks are close to the cruise pier. Banks include such familiar names as Scotia Bank and Banco Popular. (See current exchange rate)
Internet Centers and WIFI
Although Samana is an out-of-the way location, free internet and wifi are available at many restaurants and other establishments all over Samana City.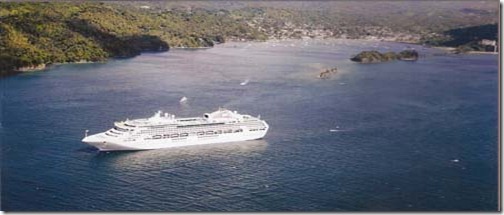 To Port of Samana Homepage

To Port of Samana City Sights

To Port of Samana Shore Excursions

To Samana Whale Watching Tours