Shopping at Altos de Chavon
La Romana, Dominican Republic
You'll find small signs pointing to and identifying the various crafts workshops bordering the winding cobblestone walkways of Altos de Chavon. You could encounter a diversity of artisans grouped together, moving from a silk-screening shop to rug weavers and then ceramicists.

Don't be bashful about looking inside if a door is open. For instance, feel free to watch a man weaving a rug for one of the area hotels. Or watch silk screeners create a batch of custom t-shirts.

The artistic showplace at Altos is modestly labeled The Gallery, a large open facility highlighting Dominican artists and promoting Dominican culture. The Gallery also regularly features the work of Altos' students from the School of Design (affiliated with the Parson's School of Design in New York City) as well as top international artists.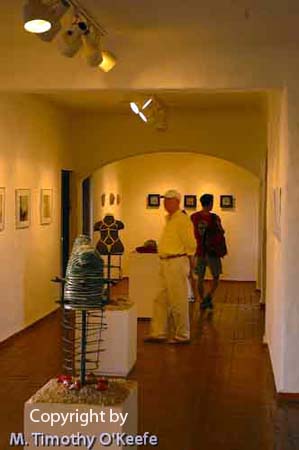 Tourists visiting the spacious Gallery

Small souvenir stores feature the usual Dominican souvenirs such as handmade cigars and jewelry made from the country's two distinctive gemstones, amber and larimar. Bargain here prices are rare.
Although the stores emphasize Dominican culture, the bars and restaurants favor Italian and Mexican themes. Most don't open until late afternoon but in summer this is the most comfortable time to visit Altos, anyway.
With the local beaches, water sports and numerous other daytime activities, the restaurants and shops are fairly deserted until late afternoon and evening. Only a few restaurants usually are open for lunch.
Here is the complete list of restaurants (they do change often). Note this also includes the main Casa de Campo resort.
Notable stops in Altos de Chavon include:
Village of Altos de Chavon

St. Stanislaus Church
Regional Museum of Archaeology
To Dominican Republic Homepage