St. Stanislaus Church
Altos de Chavon, Dominican Republic
The focal point of Altos de Chavon is St. Stanislaus Church, named for the patron saint of Poland, another of those somewhat tenuous links to Altos' Mediterranean theme.

It was named as a tribute to Pope John Paul II, who visited Santo Domingo in 1979 and left a some of the saint's ashes behind.
The church, probably Altos' most photographed site, is normally not used except for weddings.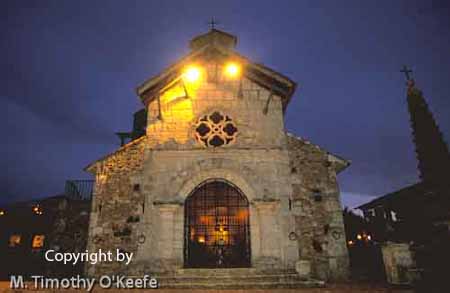 St. Stanislaus Church at night
In several visits, I've yet to enter the church because of its padlocked iron grill gates that prevent anyone from entering. The dim interior of the small church contains several rows of wooden benches and a surprisingly plain altar.
The plaza in front of the church consists of a mosaic made of bleached white coral, red sandstone and black river stones. The plaza also Includes a colonnade of obelisks and a fountain of lions.
The view of the Rio Chavon from the main plaza benches is both impressive and relaxing. From this vantage point the deep river valley appears peaceful but it obviously can be a jungle down there: Apocalypse Now and one of Sylvester Stallone's Rambo movies were filmed along the river banks.

To the left is an unnaturally green ribbon following the plateau beyond Altos. That's Dye Fore, one of the championship golf courses developed by Casa de Campo.

Altos de Chavon Intro
Regional Museum of Archaeology
Art Galleries, Shopping & Dining