Altos de Chavon Village
La Romana, Dominican Republic
Altos de Chavon is part of the sprawling Casa de Campo mega-resort in La Romana, about 100 miles east of Santo Domingo in the Dominican Republic.
The Altos de Chavon village construction began in 1976, taking 6 years and an estimated $36 million to complete. A living movie set, not theme park, may be the best way to characterize Altos' 16th Mediterranean village replica since the complex was designed by Roberto Copa, a former Paramount Studios set designer, and Charles Bluhdorn, chairman of Gulf+Western Industries who made its Paramount subsidiary into Hollywood's No. 1 income producing studio.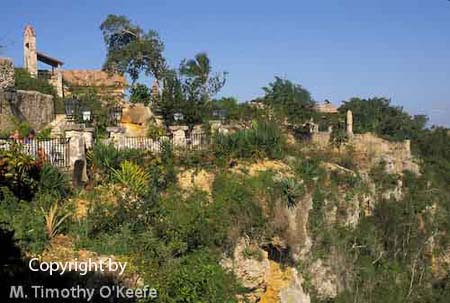 Altos de Chavon--Happy 18th Birthday, Dominique!
Altos de Chavon was created as an afterthought due to the construction of the road now leading to Bayahibe that had to be blasted through a mountain of stone in 1976.

Bluhdorn decided to use the stones to build the 16th century village--reportedly as an 18th birthday present for his daughter Dominique, who has served as president of the Altos de Chavon Cultural Center.

(Bluhdorn died in 1983 of a heart attack on his private jet while returning from Casa de Campo. Legend says The Godfather Part III was dedicated to Bluhdorn memory, "for inspiring it").
Despite its movie-based background, the Altos de Chavon Village also is a working movie set with a diverse set of characters: artists, sculptors, chefs and more.
Altos de Chavon's buildings are made of bleached coral block and red sandstone and capped with red tile roofs, all with an aged, weathered appearance. The coral block walls appear massively thick, as if made to withstand a medieval siege by barbarians.

Instead they comfortably house restaurants, craft workshops and small stores stocking the Dominican essentials, handmade cigars, amber and larimar jewelry.
The centerpiece of the Altos de Chavon Village is St. Stanislaus Church
Regional Museum of Archaeology
Art Galleries, Shopping & Dining